I'd like to put in my two cents concerning the recovery controversy. To do so, I'd like you to imagine yourself in the following scenario:
You're sitting at home one Sunday afternoon. You've previously taped Discovery's "Titanic: Anatomy of a Disaster". On this particular Sunday, you decide to watch it. You're fascinated by the discoveries the expeditions have uncovered...the rusticle research that will reveal the time she has left, the sonar imaging that revealed the true extent of her damage. About ¾ of the way through the show, they begin showing some of the artifacts they've recovered. They get to the paper artifacts and are showing a letter on screen. When they get to the signature line, you see YOUR last name! You rewind the tape and discover references to your great aunt and your grandfather. The letter was written from a city in which you know your ancestors lived at that particular time. You KNOW this is a letter from your great grandmother, but it's been written to someone you've never heard of.
It may sound bizarre, but it's a 100% TRUE scenario. Last April 20th, my husband Dave and I sat in our family room watching that tape. The signature on the letter was "Mrs. Shuttle". The references were to my husbands great Aunt Pearl and his grandfather, Roy. The letter was written by his great grandmother, Ann Elizabeth.
Since discovering the letter on "Anatomy", we've worked closely with RMS Titanic, Inc.,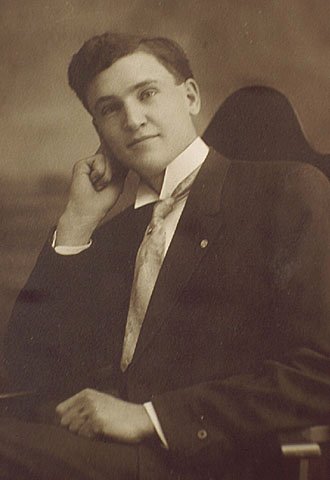 who informed us that there was not one, but 19, letters from Dave's family. They were written to Howard Irwin, who was NOT listed as a passenger on the ship, yet his trunk was recovered and most of the items therein restored, among them, the letters. Also recovered and restored was a diary Howard kept for the year of 1910. Through that diary we learned that Howard and his best friend, Henry Sutehall, had embarked on a world tour on 1/1/10, intending to spend about 2 years on the road. In the meantime, Howard and his girlfriend of 4 years, Pearl, would try to keep their relationship going through letters. This was to be a difficult task, as Pearl was also traveling, playing her coronet in a vaudeville show throughout the midwest USA.
Because of these letters and Howard's personal belongings, we have been able to find not only about 50 additional members of my husband's family we never knew existed, but also Howard's and Henry's families. We've learned who these people were and their stories are now public knowledge.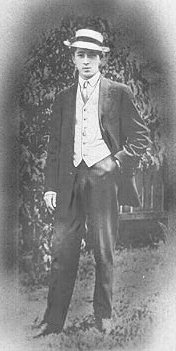 Henry Sutehall, Jr. is no longer "H. Sutehall", a 3rd class passenger on Titanic...no home town, no age. He is now no longer just a printed name on a passenger list. He is a real person, who had real hopes and dreams, who met a girl in Australia he loved dearly...who died a tragic death at 26. Howard is no longer the "missing person". He is someone who, through a bizarre series of events, never boarded Titanic, made it home to the US, eventually married and lived to his 60's. Pearl is now no longer just one of Dave's ancestors. We know her now. We know her feelings, we know her spunkiness, we know her hurt, we know her emotions. We know she died of pneumonia at the young age of 22, 6 months before Howard was to return home. We know WHO she was, not just THAT she was.
These people, thanks to the recovery and restoration of Howard's personal effects from a trunk on the ocean floor,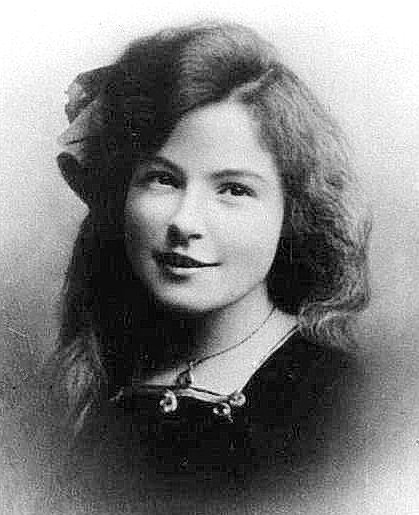 have once again become real, not only to us, but to thousands. We've had the opportunity to tell their stories on numerous TV shows, radio shows and newspapers (none of which we received ANYTHING for, except the satisfaction of knowing the story was being told). We recently were honored by being asked to help cut the ribbon at the latest artifact exhibit opening in Boston, where many of Howard's belongings, including some of Pearl's and Ann's letters, are on exhibit. Now, thanks to Boston and the earlier St. Petersburg exhibit, over a million people will know who Howard, Pearl and Henry were. Howard's personal effects have, in effect, given them a sort of immortality. As long as Titanic's artifacts exist for the public to see, so, too, will they.
That's what the recovery of personal items can do.
Thanks for listening,
-Barb Shuttle
Erie, PA