RMS Titanic Third Class
I have been trying to find a copy of a Third Class dinner menu from April 14, 1912. I received an e-mail from Dana McCauley, co-author of "Last Dinner on the Titanic : Menus and Recipes from the Great Liner". This is what Dana had to say:
I see that you are interested in finding a menu for the last dinner served in the Third Class Dining Saloon. I can tell you that, to the best of my knowledge, no such menu is surviving. That said, I can also tell you that the last dinner in third class was actually High Tea. High tea is different from afternoon tea in that it is a savoury meal eaten with a knife and fork (Afternoon tea features a lighter, finger food menu). According to plan, the last evening at sea, high tea was to feature Ragout of beef, potatoes and pickles (in other words, Irish Stew), (stewed) apricots, fresh bread and butter and currant buns as well as the obligatory tea. The main Sunday meal was eaten at lunch, much as it still is in England today.
---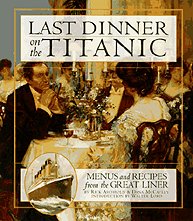 Last Dinner on the Titanic is a cookbook containing authentic recipes from the Titanic's actual bill of fare. The book is designed to recreate the atmosphere, and reproduce in exacting detail, what it was like to feast on the famous, doomed luxury liner.
(The book is available at most book stores)